I don't even know where to start with this year's Ragnar. It was awesome. It was fun. It was fantastic weather. It was full of great people. We registered something like 11 months ago. In those 11 months we lost, gained, lost and gained runners and somehow ended up with 12 runners at the start line. It was a great team and everyone had fun.
Many of us met up in Milwaukee and then drove over to Madison to find the remaining members of the team. After 30 seconds of introductions we went off to Noodles so we could finally eat. We decided dinner wasn't enough time for fun team bonding so put 11 of us in one hotel room.
Race morning came early, which might have had something to do with the people who were up all night in the hallway or those who were up at 4:30 yelling for their teammates. Either way it wasn't too bad to have to get up at 6:00ish. We met up in the lobby of the hotel and drover over to the start line where check-in was easy as can be. We then had to sit through the Don't be an Idiot Safety Training. Van 2 met up with us for the start line and some photos.
Not much longer until Aaron was off. I was runner #2 this year so had to be ready quickly. A big difference from the other two years when I was runner #12 and #11. Aaron and I were awesome at the hand-offs.
My first leg was only 4.4 miles, but there were these damn hills I didn't know about. No fun, no fun at all. There was, however, a couch around the halfway point. I did not stop, but did think about it. I enjoyed getting to actually run in Madison this year. Before I knew it I was handing off to my dad and we had to book it to the next exchange as he only had 2.7 miles. It seemed like our first legs went pretty quick (except for poor Brian who had the 9.9 mile leg), but at that point the rest of us were relaxing at Lake Mills High School. We found our Van 2 buddies and just relaxed until there was an announcement that Leg #7 had an additional 3.8 miles due to a detour. Poor Erica looked as though she might pass out. Corey was awesome and swapped legs with Erica.
At this point Van 1 was on hiatus so we drove to Water Street Brewery in Delafield and got an amazing lunch. We were all so hungry we basically wanted everything on the menu. We then went to Wales and hung out at the park for several hours. Some of us napped, we played on our phones, we lamented that we didn't have shade, I found my book, and then we had to put on our reflective gear for night time hours.
My nighttime run was in Waukesha this year. The first part was on a trail, which was foggy and dark, but not too bad. The second part was on College Ave. As things started looking familiar I realized I was on Carroll College's campus. The fun part was I ended at the Carroll Pool which is where I swam in high school because we didn't have our own pool. I haven't been in the building in 10 years, but walked in and didn't need them to point out the bathroom and showers. We finished up our runs around midnight and drove down to Racine to pass out for a few miles. My dad, Aaron and I took our sleeping bags out of the van and slept on the grass. It wasn't terrible, but it wasn't comfortable either. Of course the only important part was the 3-4 hours of solid sleep I got. There was the moment I was awoken by someone screaming "Jim, Jim, we have to go. She's ahead of schedule." I can only imagine the look on my face as I emerged from my sleeping bag. That thankfully got the person to shut up.
By this time I really didn't want to run my last leg. My last leg was my longest and while it was 6.2 and that shouldn't be a problem I chose to wear my "I heart Running" shirt to convince myself that I did in fact love running. It only kind of worked, but I did love being done with my legs. The best part about our last segment is we met up with Van 1 of the Fit Milwaukee team. We basically leap-frogged each other for all six of those legs. When Brian was done and we passed off to Van 2 we decided the only important thing was food. We found a fantastic pancake house and ate a lot of food. It was amazing.
Having never been in Van 1 before I didn't really know what to do with all our time before runner 12 would come in. We sat in traffic and then hung out on the beach. A few of us bought more Ragnar gear because why not. We then decided to get our free beers.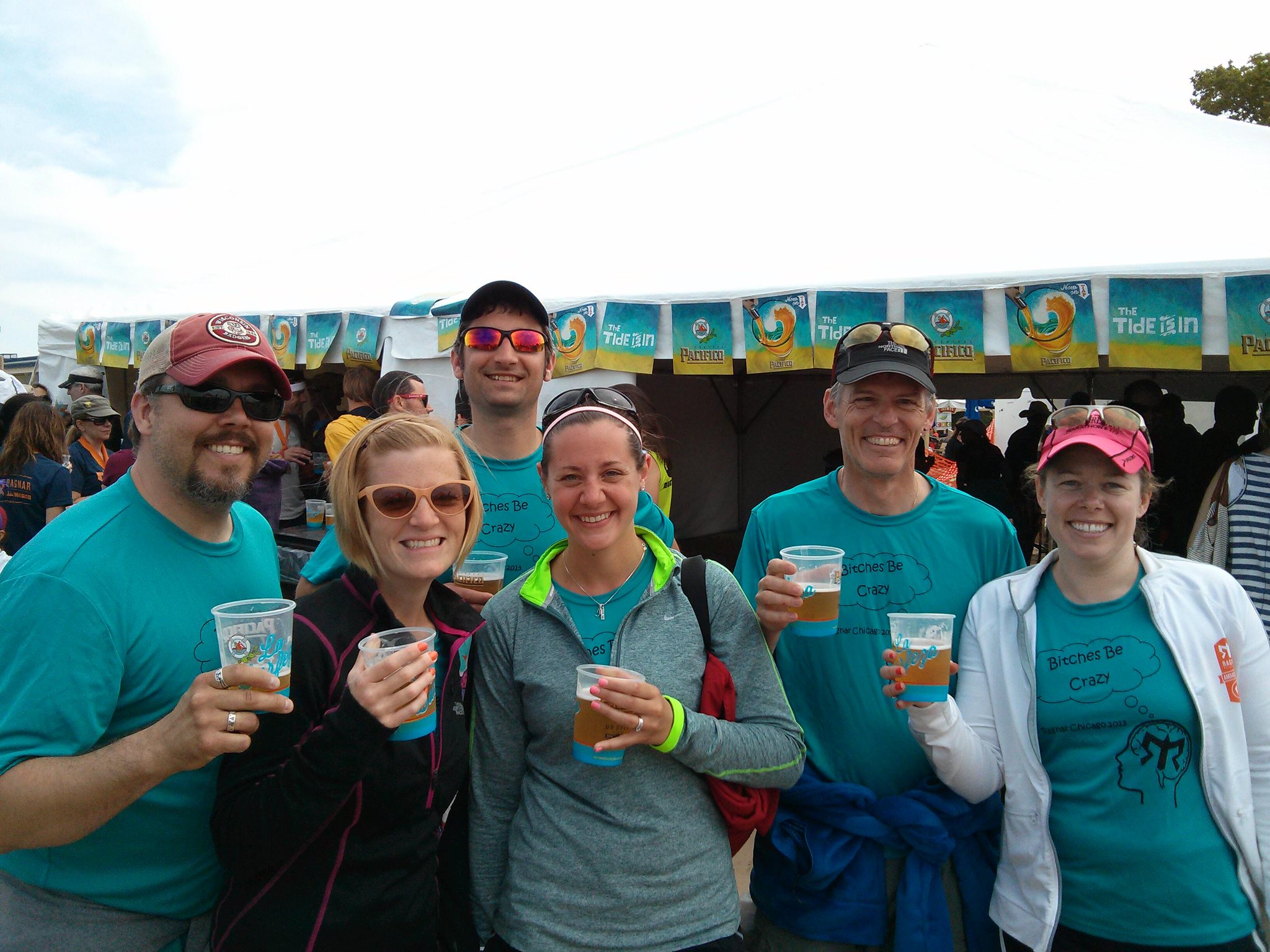 We relaxed, ate some pizza and hung out with the Fit Milwaukee Van 1 people again and all of the sudden Ian came flying in! Another Ragnar Chicago complete. It's truly amazing how much I learn each year of doing this event. It also amazes me in the stress leading up to it that I'm all "I might take next year off" and then we are planning the next year before runner 12 is finished.
Thanks Team Bitches be Crazy for an awesome Ragnar. So glad you were all on the team. It was a blast!.